Chichen Itza Travel Guide: Answering Your Top Questions for a Smooth and Informed Journey!
Are you looking to uncover the mysteries of the ancient Maya on your next trip to Mexico's Yucatan Peninsula? Then you've come to the right place. A visit to Chichen Itza, one of the New Seven Wonders of the World, should be at the top of your bucket list. Located in the heart of the Yucatan jungle, these well-preserved ruins give you a glimpse into the architectural and cultural genius of the Maya civilization.
Just a couple hours from Cancun, Playa del Carmen, and Tulum, Chichen Itza makes an easy day trip or exciting multi-day escape. Whether you want to go solo or prefer the convenience of a guided tour, this comprehensive guide will tell you everything you need to know to plan your adventure to Chichen Itza, from how to get there to the must-see highlights of the ancient site. You'll feel like a modern-day explorer as you wander the Great Ball Court, climb the steps of El Castillo, and ponder the meaning behind the Platform of Venus. By the end of your visit, you'll leave with a newfound appreciation of the Maya and memories that will last far longer than any souvenir.
Chichen Itza Travel Guide - Table of Contents
Where Is Chichen Itza Located?
Chichen Itza is located in Mexico's Yucatan Peninsula, in the state of Yucatan.
How to get to Chichen Itza?
Rent a car: The easiest way to get to Chichen Itza is to rent a car and drive yourself. Head southwest from Cancun or west from Playa del Carmen on Highway 180. Look for the well-marked exit for Chichen Itza.
Take the bus: If you prefer not to drive, you can take an ADO bus. Busses depart several times a day from Cancun, Playa del Carmen, and Tulum. The trip will take 2.5-4 hours depending on your departure point. Buy tickets in advance and arrive at the bus station at least 30 minutes before your scheduled departure.
Book a tour: Many visitors opt to see Chichen Itza on a guided day trip or tour. Both group and private tours pick up from hotels in Cancun, Playa del Carmen and Tulum. Tours include round-trip transport, entrance fees, and an English-speaking guide. It's a convenient way to learn about the history and culture of this UNESCO World Heritage site without the hassle of getting there yourself.
How far is Chichen Itza From Cancun, Playa del Carmen or Tulum?
Getting to Chichen Itza from nearby cities is actually quite easy. Here are your options:
Chichen Itza From Cancun hotel zone (3 hours away)
Renting a car is a popular choice for the 130 mile drive west from Cancun to Chichen Itza. The well-maintained highway will get you there in under 3 hours. If you prefer not to drive, bus tours from Cancun visit Chichen Itza daily. Look for a tour that gives you at least 3-4 hours at the site so you have enough time to explore the ancient city.
Chichen Itza From Playa del Carmen (2.5 hours away)
Driving yourself from Playa del Carmen, 110 miles, will also take around 2.5 hours with normal traffic. Several tour companies in Playa offer guided excursions to Chichen Itza if you prefer to sit back and enjoy the ride. These tours will pick you up at your hotel and handle all the logistics so you can focus on the destination.
Chichen Itza From Tulum (2.5 hours away)
The trip from Tulum, about 90 miles, is a bit shorter at 2.5 hours driving time. Many of the same tour companies that operate from Playa del Carmen and Cancun also offer excursions departing from Tulum. If the idea of a big bus tour doesn't appeal to you, private tours to Chichen Itza with a guide are available to give you a more customized experience.
No matter which gateway city you're traveling from, Chichen Itza is within easy reach. So don't miss the chance to wander through the ancient streets of this UNESCO World Heritage site and uncover the mysteries of the Maya on your Yucatan Peninsula getaway!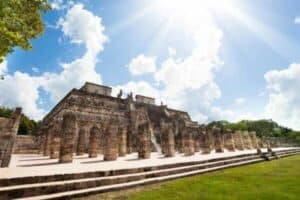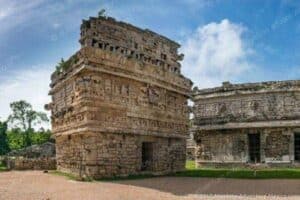 Exploring the Ruins: Tour Options for Visiting Chichen Itza
Exploring the ruins of Chichen Itza can be done in several ways. As an UNESCO World Heritage site and one of the New Seven Wonders of the World, it attracts over 2,6 million visitors each year, so planning your visit wisely is key.
Group Tours
Joining a group tour from Cancun or Playa del Carmen is the easiest option. Major tour operators offer guided day trips to the site, including round-trip transport and an English-speaking guide. These tours pick you up at your hotel, handle all logistics, and allow you to learn about the history of the ruins. However, the large groups can feel crowded, especially during peak season.
Private Tours
For a more customized experience, book a
Chichen Itza private tour
. Some tour companies offer exclusive early access (skip the lines) allowing you to explore without the biggest crowds. A private guide can tailor the tour to your interests, spending more or less time at different areas of the site. Private tours do cost more, but provide a VIP experience.
Rent a Car
Renting a car and driving to Chichen Itza yourself can be a good option. You'll have the freedom to arrive and depart whenever you want, and can take as much or as little time exploring the ruins as you like. However, parking fees do apply, and driving in Mexico can be challenging if you're not familiar with the roads.


No matter how you choose to visit Chichen Itza, make sure to arrive early, wear comfortable walking shoes, pack water, sun protection, bug spray and a hat. The site contains many stone structures, paths and climbs that require endurance in the Yucatan heat. An early start will ensure you have plenty of time to take it all in at your own pace before the biggest crowds arrive. The secrets of this ancient Mayan city are waiting to be unlocked
What are Chichen Itza opening hours?
The Chichen Itza ruins are open from 8am to 5pm all year round. Last entrance at 4pm.
What is the entrance fee to Chichen Itza?
The entrance fees for tourists visiting Chichen Itza is 614 pesos per person, you need to buy 2 tickets per person: For the Ruins entrance INAH ticket, it costs 90 pesos per person. For the Ruins entrance CULTUR ticket (Yucatan State), it costs 524 pesos per person.
Can you climb the Chichen Itza pyramid?
No, climbing the Chichen Itza pyramid is not allowed. However, if you're interested in climbing a Mayan pyramid, you should consider visiting the
Ek Balam Mayan
ruins instead. As of 2020, climbing the famous Nohoch Mul pyramid in
Coba ruins
is also prohibited.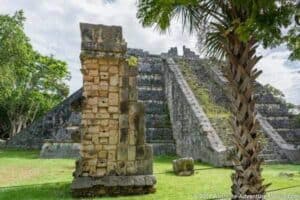 The Fascinating History of the Chichen Itza Civilization
When was Chichen Itza Built – How Old is Chichen Itza?
The ancient Mayan city of Chichen Itza holds many mysteries of an advanced civilization. Built between 600 to 1200 AD, Chichen Itza was a major economic and political center of the Mayan world. Understanding its history helps unlock the secrets of this fascinating pre-Columbian site.
Who built Chichen Izta?
The city was built by the Mayans, who inhabited the Yucatan Peninsula of Mexico and parts of Central America. The nobles and priests of Chichen Itza were devoted to the god Kukulcan, and the city's architecture reflects this. The most well-known structure is the Pyramid of Kukulcan, also called El Castillo. This 98-foot pyramid served as a temple to Kukulcan and a calendar.
Chichen Itza was a prominent Mayan city for over 600 years, functioning as a center of politics, culture, and commerce. At its peak between 800 to 1250 AD, it had one of the most densely concentrated indigenous populations in the Americas. The city was eventually abandoned, and by the time of the Spanish conquest, it was largely uninhabited.
When was Chichen Izta discovered?
Chichen Itza was rediscovered by the Spanish conquistador Francisco de Montejo in 1542, but it remained largely unknown to Europeans for centuries. Major excavation and restoration work began in the 1920s. Since 1988, Chichen Itza has been designated as a UNESCO World Heritage Site and named one of the New Seven Wonders of the World in 2007.
Today, over 2.6 million visitors explore Chichen Itza every year. As you wander the ruins, imagine what life was like in this ancient city, with nobility and commoners, rituals and sacrifices, and bustling activity day and night. The structures that remain, like El Castillo and El Caracol observatory, offer a glimpse into the engineering and astronomical genius of the Mayan civilization. A trip to Chichen Itza is a journey into the distant past that forever alters your perspective on human accomplishment.
Some of the most popular cenotes near Chichen Itza are only a short drive away. A cenote is a natural sinkhole resulting from the collapse of limestone bedrock that exposes groundwater underneath. The Yucatán Peninsula is home to thousands of cenotes, and several spectacular ones are right around Chichen Itza.
Cenote Xcolot and Sacred Cenote
Within the Chichen Itza archeological site, you'll find two cenotes – Cenote Xcolot and the Sacred Cenote. The Sacred Cenote was used for human sacrifices and offerings to the Mayan rain god Chaac. Swimming is not allowed in these cenotes, but they are definitely a must-see when you visit the ruins.
Cenotes Xkeken and Samula
Located just 25 miles from Chichen Itza and near Valladolid, the Cave
Cenotes of Xkeken and Samula
offer an exciting adventure. These underground caverns are adorned with stunning stalactites and stalagmites, and they have a unique feature – a hole through which the sunlight filters, creating breathtaking light effects. Prepare to be amazed by the crystal-clear waters and mesmerizing rock formations in these magical swimming cenotes.
Cenote Oxman
Located just 25 miles away from Chichen Itza and in close proximity to Valladolid,
Cenote Oxman
is a highly sought-after destination for swimming enthusiasts. Upon descending a steep staircase, visitors are greeted with a mesmerizing sight – a cave pool situated 90 feet below the surface. The water itself boasts a breathtaking blue hue and is surrounded by the majestic roots of jungle trees, providing an awe-inspiring view from the top.
Cenote Ik Kil
Only 3 miles from Chichen Itza, Cenote Ik Kil is one of the most popular cenotes in the Yucatán. Known for its open-air, cylinder shape, this cenote features lush vegetation, rock formations and a small waterfall. The swimming area has dive platforms at different heights for the daring. As a very famous cenote, it is one of the most visited. Find out more in our article on the
cenote Ik kil
.
So there you have it, a complete Chichen Itza Travel Guide! Whether you decide to rent a car and explore at your own pace, join an organized tour, or experience it as part of a day trip from Cancun, Playa del Carmen or Tulum, you're sure to be awed by the scale and beauty of this ancient Mayan city.  A visit to Chichen Itza is truly an experience you'll never forget.