Information and Precautions by Absolute Adventure Mexico.
Last update: Octobre 26th, 2022
At Absolute Adventure Mexico, the health and safety of our guests and our team is always our top priority. For this reason we are carefully monitoring the advice issued by the Health Secretary of Quintana Roo, the WHO and CDC. We strictly follow their regulations and recommendations.
Safety Measures for Covid-19 and tours in Playa del Carmen, Cancun and Tulum
Sanitized vans
This includes wiping down all surfaces and spraying them with an antibacterial product. We then close the van overnight for full disinfection to take place. Each van is used only once per day for one private tour service.
Face Masks
It is not mandatory anymore to wear face mask in Quintana Roo & Yucatan States, but still recommended in transportation. Some sites we visit may ask staff and travelers to wear it. If you do not have your own mask, we will provide a single use mask.
Hand Gel
Antibacterial hand gel will be available to use when getting into and out of the vehicle. We will ask everyone to use the facilities at each place we visit and wash their hands thoroughly before and after each activity.
Restaurants
We will only be visiting restaurants that are following the health recommendations. The restaurants we include in our private tours offer open air tables and respect the social distancing guidelines between tables. Menus will not be handed out; instead your guide will inform you of the menu choice for you to place your order.
Snorkeling Equipment
Everything will be cleaned with sodium hypochlorite after each use to eliminate the virus. Of course, you can bring your own equipment if you prefer.
Early pick up, Avoid crowds
To further reduce the risk of coming into contact with the coronavirus, our tours will all start in the early morning. We will bypass the crowds by being the first on-site, avoiding the heat and the lines that build up later in the day. It will also give you the best possible experience and you'll get great photos of the attraction!
Good to Know:
Do not hesitate to book with confidence, ABSOLUTE ADVENTURE cancellation conditions are guaranteed: Free cancellation and refund of your deposit up to 24/48 hours before the excursion (for whatever reason).
Safest and best tours are private!
When it comes to safety, we recommend private tours as the best way to enjoy the attractions:
Private tours are just for you and your driver and guide. You will not share the tour with other people
Explore at your own pace and enjoy the full attention of your private tour guide
Avoid contact with other tourists as much as possible (compared to a shared bus tour)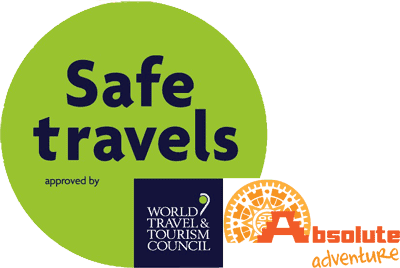 On June 11th 2020, Absolute Adventure Mexico received the CPPSIT - SAFE TRAVELS certificate (the Tourist Health Safety Certification) delivered by SEDETUR (tourism secretary), SESA (health secretary) and the Government of Quintana Roo.
The certificate confirms we have successfully implemented and set up all sanitary measures to prevent and further reduce the risk of contamination.
On 6,000 companies that submitted their files to get the certificate, we were proud to be the 30th company to obtain the certificate on June 11th 2020!

Managed by State of Quintana Roo, SEDETUR (secretary of tourism), Guest Assist provides assistance and guidance to national and foreign tourists who visit the state of Quintana Roo, particularly those in situations where their wellbeing or belongings are affected.
FIND THE PERFECT TOUR FOR YOUR HOLIDAYS