Nestled like a precious jewel on the southern tip of the Riviera Maya is a town like no other place- Tulum. International visitors flock to Tulum, as well as the rich and famous. Tulum is trendy and hip but also offers visitors diverse places to visit and experience. The Mesoamerican Reef is the largest coral reef in the Western Hemisphere. Here it is possible to snorkel with turtles and admire sting rays and many colorful Caribbean fish. Some of Mexico's most impressive archaeological sites are in the State of Quintana Roo. A visit to the Tulum Ruins or Coba is an experience unlike any other. Also in this area are Cenotes. Enjoy crystal-clear bodies of water within the beautiful jungle.  
Tulum is famous for its ultra-cool vibe. Yet, some of the most incredible sights are not always easily accessible. Booking with Absolute Adventure means you don't need to rent a car and worry about finding destinations. You can spend more time experiencing the best of the area. Our outstanding team has incredible local knowledge. We also know the best times to visit sites to avoid crowds of tourists. We can take you to some fantastic off-the-beaten track cenotes to snorkel. Travel comfortably with air conditioning, private guides, and peace of mind.  We would love for you to experience Tulum with us. Read on to see which of our 6 Best Private Tulum Tours is the tour for you. We offer both full and half-day tours.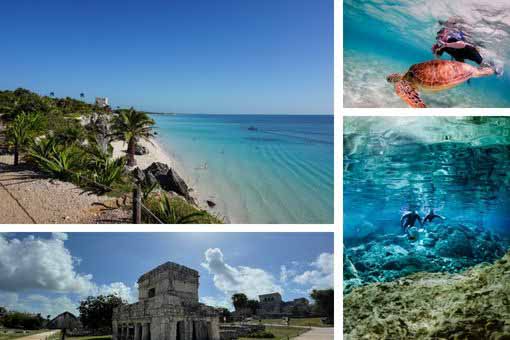 FULL DAY TRIP. Our best-selling tour is a fantastic option and begins at the Tulum Ruins. It is one of the best preserved Coastal Mayan Sites. It is breathtaking. Perched on a cliff overlooking the sparkling Caribbean Sea is this Mayan-walled city. A private guide will show you the most important aspects of this ancient city. Ready to refresh yourself? Next, we visit a cenote. We love to make our clients happy, so let you choose the cenote you will experience. Every cenote is unique and memorable. After a delicious lunch at a Mexican restaurant in a perfect jungle setting, we visit Akumal. Here you will snorkel with the majestic sea turtles.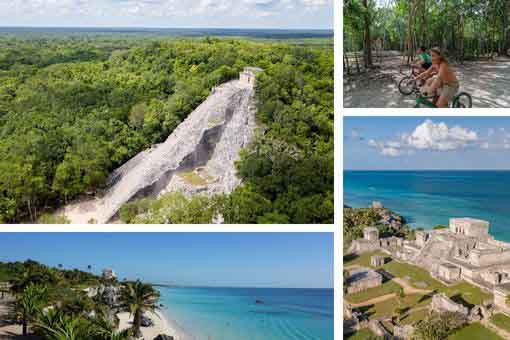 FULL DAY TRIP. The ruins tour begins at the Tulum Ruins on a cliff overlooking the Caribbean Sea. Your private guide will ensure you see the highlights of this site, including the Temple of Frescoes. It contains an impressive amount of Mayan Artwork. Next, we travel to Coba ruins. Within the ancient city of Coba is Nohoch Mul. It is the tallest pyramid in the Yucatan Penisula. Throughout Coba are white roads used by the Mayan people. These roads take you through the jungle and to many outstanding ancient structures. Included in this tour are bicycles to ride the Mayan roads. Or if you prefer, enjoy a taxi-tricycle, where someone else does the peddling. We then have a delicious lunch. Want to keep exploring? Absolute Adventure gives you the option of visiting two spectacular cenotes in Coba. These are examples of cave cenotes. Experience swimming underground while enjoying the beauty of the stalactites and stalagmites.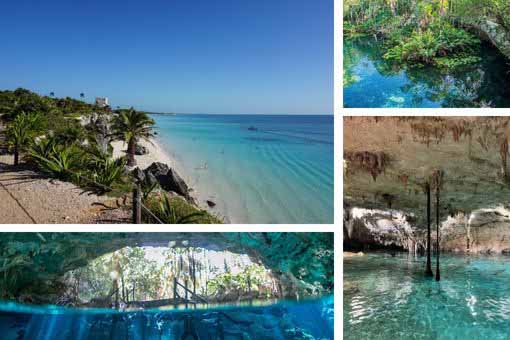 HALF DAY TRIP. On this private tour, we begin by visiting the Tulum Ruins. Your private guide will ensure you see the best that this site has to offer. Its location on the Caribbean Sea made it an ideal spot for trade. After visiting the Tulum Ruins, it is time to cool off in one of the many stunning cenotes in the area. We give you the choice of what cenote you want to visit and whether you would like to experience one or two. The cenotes are in stunning tropical jungle settings. We finish the day with a tasty traditional Mexican lunch.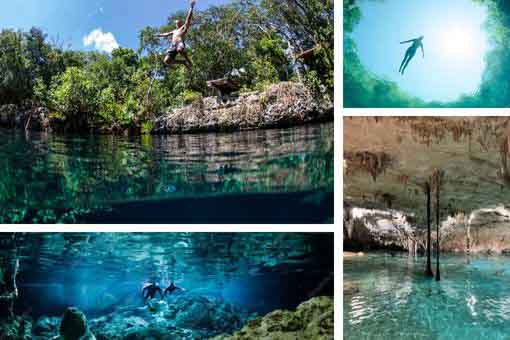 HALF DAY TRIP. The Riviera Maya has amazing Cenotes. These are natural wonders, and every cenote is unique. One of the advantages of our tour is that you can choose from our list of cenotes. Your preferences are important to us. At the cenotes, a knowledgeable guide will go with you. They provide wet suits and underwater lights. After you have relaxed in the jungle and refreshed yourself in the cenotes, it is time for lunch. The tour finishes with a delicious traditional Mexican meal in an unforgettable setting.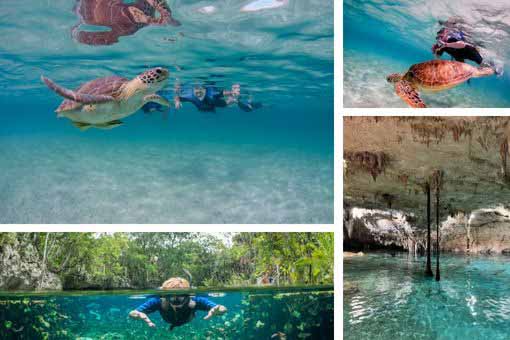 HALF DAY TRIP. On this tour, we experience snorkeling with turtles in the Caribbean Sea and also a freshwater Cenote. We visit Akumal to swim with the magnificent green sea turtles. These gentle giants are incredible to see up close and in their natural habitat. Keep your eyes open because we will also see tropical fish and if we are lucky, a manta ray. We next visit a Cenote of your choosing. You will feel rejuvenated after spending time in crystal clear waters within the jungle. The tour ends with a tasty Mexican lunch.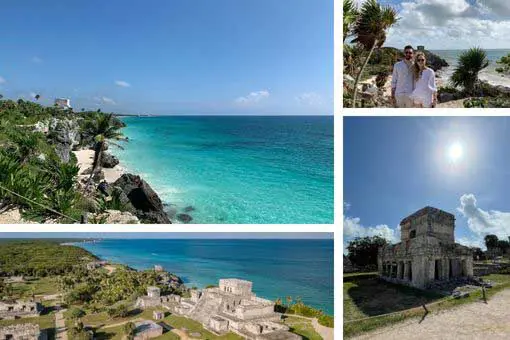 EXPRESS TRIP. Are you short on time? The Express Tulum Tour might be the perfect tour for you. The Tulum Ruins are one of the best-preserved Coastal Mayan sites. Historically, the town was an important trading port. A knowledgeable private guide will lead you through this dramatic Mayan Site. They will ensure you see the best of the structures within the Mayan walled City. On this tour, there is time to visit the beach area within the Mayan Ruins. As we leave the archaeological ruins, there is also time to enjoy the artisan market and shop for a souvenir.