Epic Natural Wonders Are The Jewels of The Jungle
Imagine floating in a crystal-clear body of water hidden in the lush Mexican jungle. Roots of trees grow over rocks to reach the refreshing water making the landscape look like a scene from a Hollywood adventure movie- unbelievably beautiful. Tropical birds dance above the water, adding an incredible soundtrack to this surreal experience. These natural wonders are openings to an underwater river system, the largest in the world.
The Cenotes are sinkholes that let us experience the crystalline freshwater through the openings time has created. Every Cenote is unique in shape and size, but all are awe-inspiring. The Cenotes range from cave experiences where you can swim among stalagmites and stalactites. There are also open Cenotes with jumping platforms and zip lines for adrenaline lovers. Enjoy swimming, snorkeling, or floating- Cenotes are a unique experience in the natural world. Tourists from across the globe flock to admire and enjoy the Rivieras Maya's stunning Cenotes. After visiting one or two or more, you will understand why.
Experience The Best Cenotes in the Riviera Maya
Many Cenotes are not always easily accessible. One of the many advantages of booking a Private Cenote Tour with Absolute Adventure is that we know the best Cenotes in the area and the best times to visit them to avoid crowds. Our tours include quality equipment like snorkels, masks, flashlights, and wetsuits. We have trained and professional English-speaking guides who will share their knowledge of these incredible natural wonders with you. With comfortable air-conditioned travel, you can get picked up and dropped off without concerns. Spend more time enjoying your experience with total peace of mind. Our team at Absolute Adventures provides you with the best Cenote experience possible. We proudly offer our clients numerous choices of Cenotes to visit: open, semi-open, or cave. By personalizing your private tour, we know it will make your day even more special.
Below are the 8 BEST Cenote Private Tours we offer at Absolute Adventure. Which of our tours will make your trip to the Riviera Maya extra magical?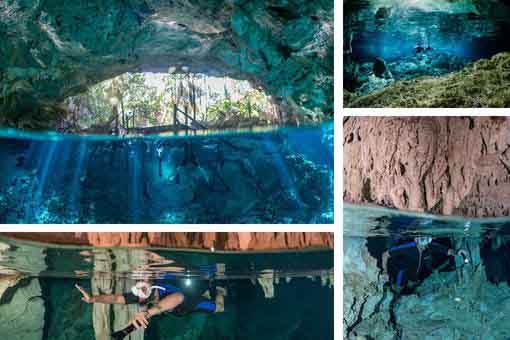 This unique cenote tour features three Cenotes. First, we visit Nicte Ha. The water here is clear, and the vegetation is breathtaking; a perfect spot to snorkel to enjoy seeing fish. The water is shallow, and gorgeous water lilies make this Cenote picture-perfect. Next, we experience Dos Ojos Cenote, which means "two eyes" in Spanish and from above does resemble its name. Explore the two cave Cenotes and swim among stalagmites and stalactites. Are you feeling adventurous? Add on our Bat Cave experience- it is legendary. The Bat Cave is only accessible with a guide, and we have you covered. Ready to relax? Within the jungle around the cenotes are hammocks where you can enjoy the flowers and birds. Finish the tour with a delicious Mayan Lunch.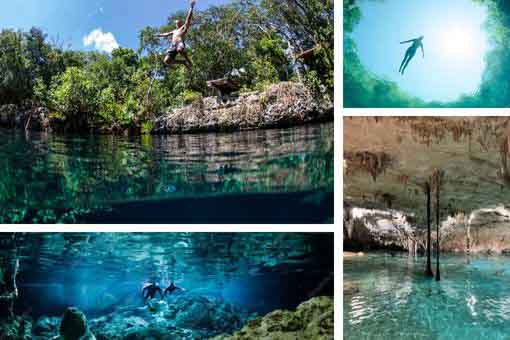 This tour offers our clients a personalized Cenote experience. This tour is suitable for all swim levels. There are numerous Cenotes to choose from. We suggest combining one cave cenote and one open cenote. No matter what two cenotes you pick to experience, we are confident that it will be a memorable day. Our award-winning tours include English-speaking guides to ensure you get the most out of your day trip. Enjoy a cool drink as you travel from the first Cenote to the second of the day. Ready for some delicious food? Before returning to your accommodation, enjoy a delicious Mexican lunch in a gorgeous jungle setting.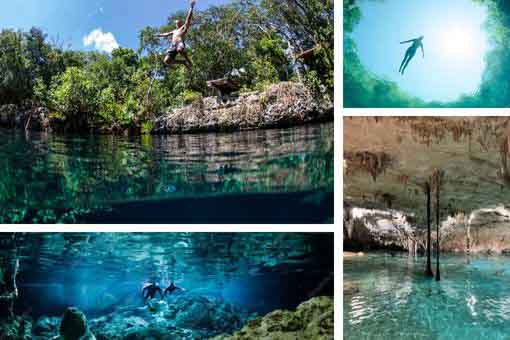 Are Cenotes on your 'Bucket List'? Then this Absolute Cenote Private Tour may be the right choice for you! There is a lot of swimming, so this experience is perfect for stronger swimmers. We customize the day to the Cenotes you want to experience. Don't worry if you are finding it difficult to choose from our list of options. We assure you that all the Cenotes available on our tours are outstanding and unique. We finish the day with a hearty Mexican meal before returning you in comfort to your hotel.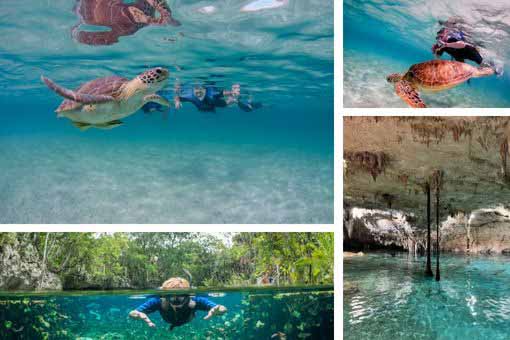 Are you a fan of snorkeling? On this Private Tour, you can experience the beauty of the sparkling Caribbean Sea and the crystal-clear waters of the submerged worlds of Cenotes. Visit Akumal Bay to swim with giant sea turtles in their natural habitat. These beautiful, gentle creatures will astound you. Next, enjoy the tranquility of swimming in a Cenote of your choosing. You can choose an open Cenote or a cave Cenote. Whatever you prefer- the jungle surroundings will impress. Finish your tour with an incredible Mexican meal before we return to your accommodation.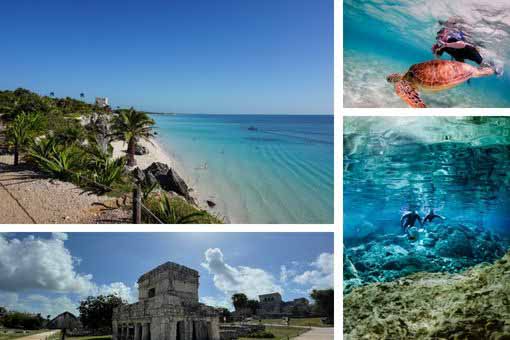 Local culture and incredible natural wonders are the focus of this private Tulum tour. Begin the day at the Tulum Ruins. Visit the ancient Mayan city on a cliff overlooking the beautiful Caribbean Sea. Your private guide will ensure you see the best of this important archaeological site. Next, we visit a Cenote. Which one? The choice is yours. Refresh yourself in these jewels of the jungle with their crystal-clear waters. Akumal Bay is the next stop on this epic tour. Snorkel with magnificent sea turtles and admire the multitude of other tropical fish. Finally, relax with a delicious Mexican meal before you return.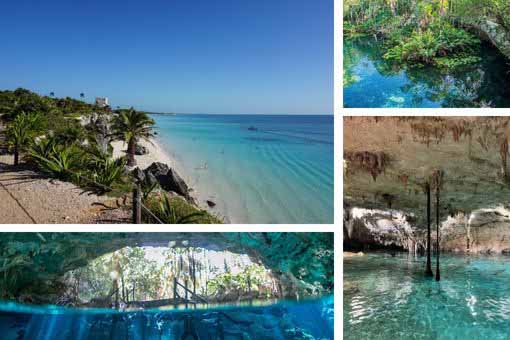 Travel in total comfort to the Tulum Ruins with a private guide who will explain the highlights of this archaeological site. The Mayan walled city once served as an important Port and is one of the best-preserved Coastal Mayan sites. Ready to cool off? Choose a cenote of your preference for the next stop. We include snorkels, masks, wetsuits, and even flashlights for your swim in the crystal-clear waters of these jungle sinkholes. Finish the excursion with a delicious Mexican meal.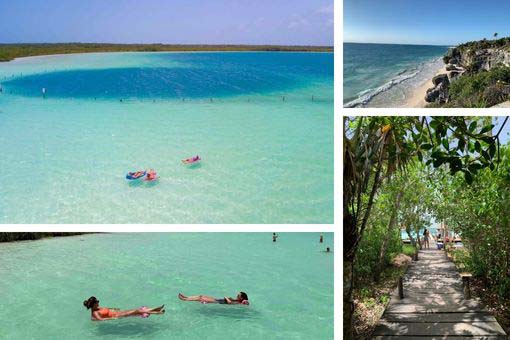 We begin this tour at the Tulum Ruins. This archaeological site is breathtaking as it towers over the Caribbean Sea. A private guide will lead you to the most interesting sights within the complex. The Temple of Frescoes is a must-see, full of Mayan artwork. Next, we visit Laguna Kaan Luum. The gorgeous turquoise water is stunning. Included are airbeds so you can float in ultimate comfort. We then visit Cenote Corazon to enjoy snorkeling and swimming in a lush jungle setting. Finally, an incredible meal in Tulum is on the menu!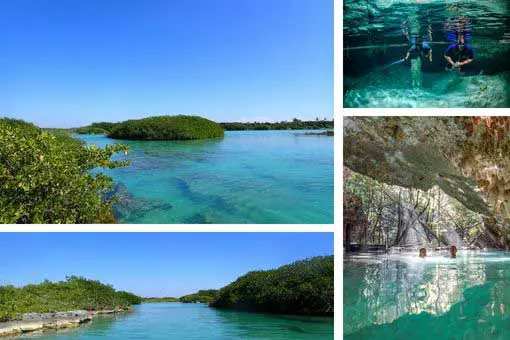 Visit Yal-Ku Lagoon to experience a beautiful turquoise body of water. Snorkel amongst mangroves where the water is a mixture of fresh water and salt water. This unique area contains colorful tropical fish to swim with. It is beautiful. Customize your tour with a Cenote of your choosing. Comfortably travel to a sinkhole in the jungle and enjoy the tranquility and clear water. Finish your day with a delicious Mexican meal.